DOCK SECTIONS TO CREATE THE PERFECT
WATERFRONT SOLUTION
EZ Dock polyethylene dock sections offer unmatched performance when it comes to modular docking solutions. Our revolutionary design is durable, slip-resistant and low maintenance to help ensure your time on the water is well spent.
Constructed with extra-heavy and extra-thick walls for optimal strength, the unique pylon (chamber) design allows the dock sections to remain stable while adapting easily to changing water levels, even under rough water conditions.
WHY CHOOSE EZ FLOATING DOCK SECTIONS?
EZ Dock was founded by water enthusiasts for water enthusiasts. We designed our entire brand around one philosophy: we want EZ Dock to be part of the best investment in your waterfront property. You can find EZ Docks at restaurants, marinas, homes, recreational areas and more.
The secret? Our quality. EZ Dock custom polyethylene floating dock systems are durable, barefoot-friendly and designed to look great. They're even environmentally-friendly. Our products don't leach chemicals into the water, the way treated lumber can. Our floating dock kits also let some light through, making it healthier for marine life, and are made from recycled plastic. If you want to make the best investment for your waterfront, contact EZ Dock today.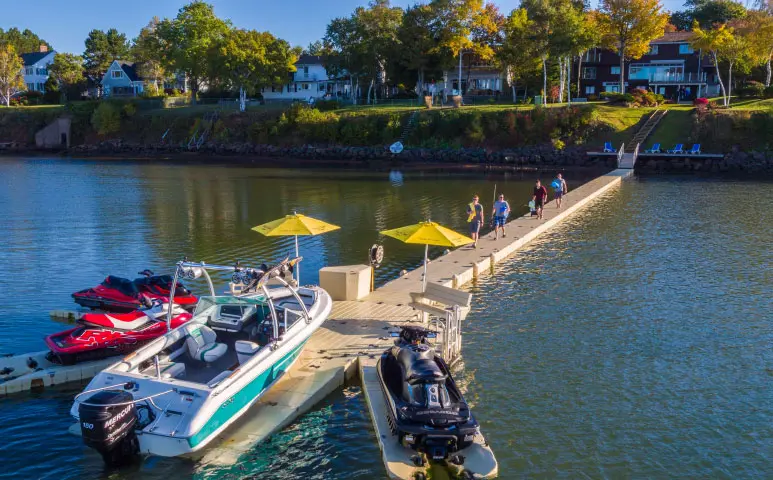 CUSTOMIZABLE FLOATING DOCK SECTIONS
Our dock sections offer several advantages:
They have the best features built right in. These sections are molded to be durable, slip-resistant and low-maintenance. Slip-resistant texture is molded right into the top, so these docks are safer than wood or concrete for bare feet. The materials are made to last, with no need for repainting or maintenance for rot and splintering.
They create customizable dock systems.

 

Our floating dock sections for sale come in multiple shapes and sizes so they can be configured to your exact specifications. The range of choices means you get the design you need for your commercial or residential dock.
They are more durable. Traditional floating docks are one section, which can make them stiff and unyielding in

 

harsh weather, increasing the risk of damage. In bad weather, EZ Dock sections move independently, making your system stronger and more resistant to damage. This bit of give has allowed EZ Dock systems to withstand even tropical storms.
They are easy to install. All you need to do is join each section with the innovative couplings and tighten the bolts. Your dock will be up and running in no time, providing a perfect spot for boating, fishing and swimming.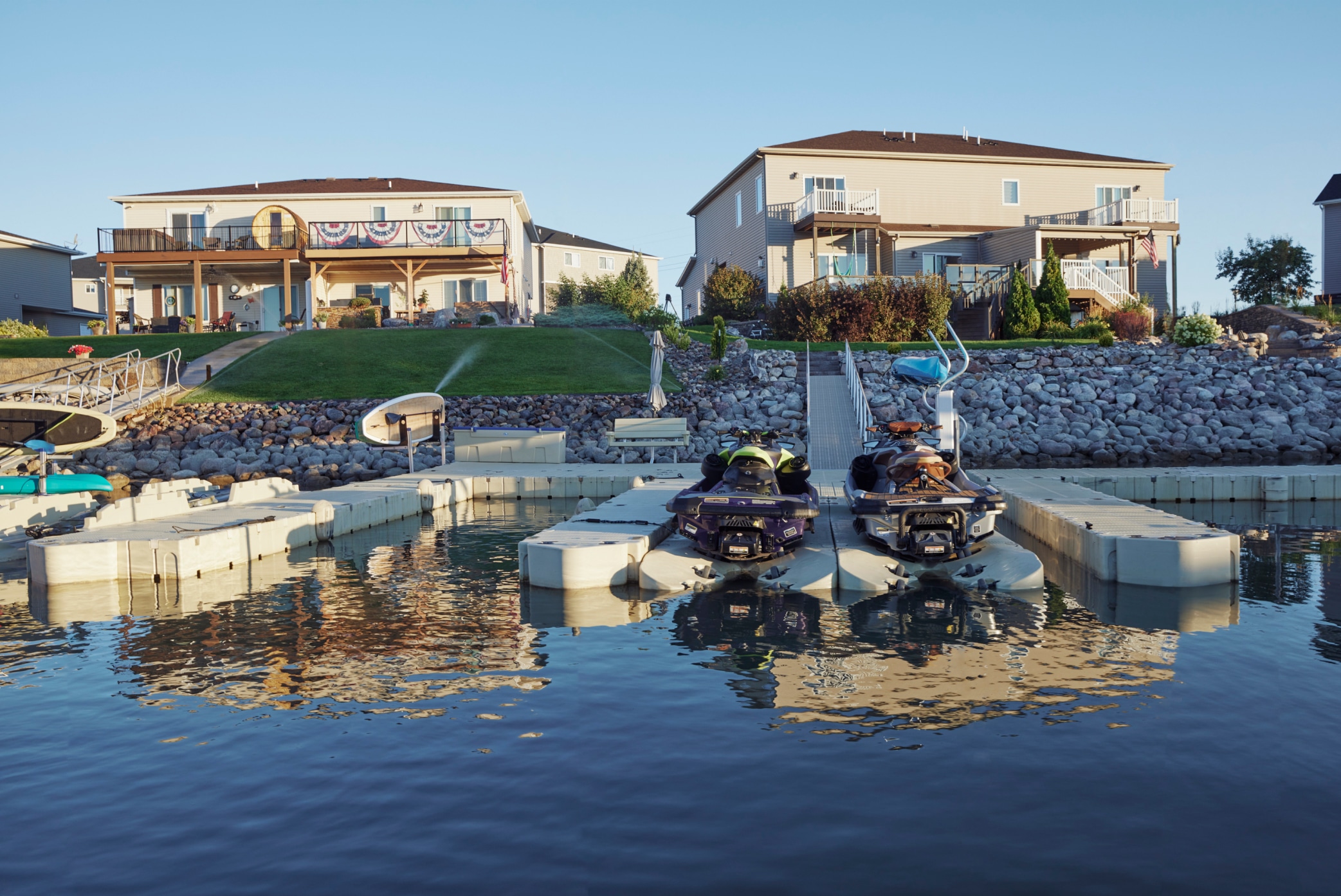 CHOOSE EZ DOCK CUSTOM FLOATING DOCK SECTIONS FOR SALE
Need inspiration? Take a look at our Dock Section packages for pre-configured designs, sign up for our newsletter or reach out to our experts for a tailored quote today.